Map Export
From University Map Wiki
Jump to navigation
Jump to search
The University Map's export/print pages let you make an extract of the map in a variety of scales and formats. You can get:
at its simplest, just the map you are looking at fitted to an A4 page in a PDF file, which you can then print or pass on.
a similar page but where you choose the scale, area and information included.
an image file (a PNG) suitable for putting on another web site (though if you want a map in a web site, consider embedded the main map so you always get the most up to date version - if you want to mark on top, you can also do this using an embedded map).
a map for specialist use in publications: a PDF or EPS file of an exact physical size suitable for placement in a page makeup program such as Adobe InDesign, Quark XPress or Serif Page Plus.
To start exporting a map extract, choose Export/print from the More menu in the main University map at http://map.cam.ac.uk
Choose format
(step-1)
...
Choose scale (advanced)
(step-2-advanced)
(pdf-recommended)
Choose area (advanced - pdf)
(step-2-advanced-pdf)
Choose area (advanced - png)
(step-2-advanced-pdf)
Choose scale (specialist)
(step-3-specialist)
Choose area (specialist)
(step-3-specialist)
Wait for your map
(step-4-wait)
Collect your map
(step-5-collect)
Cookies and privacy
(cookies)
Attribution
When using the map in a publication (whether online or on paper), your document needs to include an attribution to OpenStreetMap, on which the map is based, and we would appreciate acknowledgement of the source. The A4 PDFs already include such an acknowledgement, but the PDF and PNG extracts do not, to give you maximum flexibility to incorporate the map as you wish in your publications.
Please quote the following:
 Map base data copyright © OpenStreetMao contributors including
 University of Cambridge, licensed ODbl1.0. Map presentation
 copyright © [year] University of Cambridge.

Extra map examples
Two additional maps other than the online map are available when using PDF Extract.
At a scale of 1:3,7500, the central area map covers roughly from Sidgwick Site in the west to the Chemistry Laboratory in the east. It's intended to highlight the central city University sites - it names colleges but does not show their buildings or outlines. In its entirety it fits on landscape A4 and is primarily intended for use in the University's paper map. Example extract: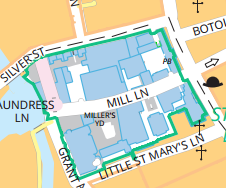 At 1:7,500, the simplified map is the basis for the main paper map but omits all but main street names, and is therefore less cluttered and perhaps more suitable for annotating on top. Example extract:
For comparison, the online map's zoom level 16 (indicated in the URL and by the 200m scale size in the top right) is approximately 1:10,000 (each zoom level changes the scale by a factor of 2).